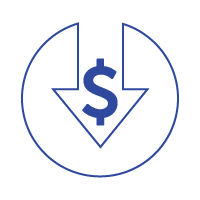 VIAcode provides Azure security monitoring and management services that bring best-practice authentication, security policy management, and threat remediation to applications hosted on Azure. We help enterprise organizations to effectively leverage Azure services, including Azure Monitor, Azure Policy, Security Center, and Key Vault to protect infrastructure from the risk of data theft, malware, and other attacks.
Microsoft Azure empowers organizations with scalable, secure, and agile infrastructure to accelerate application development and deployment while reducing infrastructure costs. However, Azure's flexibility and scale can cause security blindspots and compliance failures, presenting challenges that traditional IT security teams struggle to overcome.
VIAcode works with enterprise organizations to implement cloud security best practices and to identify and mitigate security threats.
Our Azure Managed Security Services include:
The development, implementation, and management of unified security policies for large-scale infrastructure deployments via Azure Policy and Security Center.
Continuous security monitoring, including DDoS attack monitoring.
Quarterly vulnerability assessments to identify security and compliance risks.
The design and implementation of security monitoring strategies with actionable and relevant Alerts via Azure Monitor.
Remediation of security and compliance risks.
Pro-active patching to mitigate the risk of exploitable software vulnerabilities.
Anti-virus and anti-malware updates for enhanced detection of viruses, ransomware, and other malicious software.
VIAcode's team of developers and Azure security specialists can secure your organization's Azure infrastructure, reducing the risk of data theft, malware infection, ransomware, and DDoS attacks.
To enhance your organization's Azure security monitoring and compliance, talk to a VIAcode Azure security specialist today.
Schedule a call
Check out our Azure Snapshot tool which provides (among other things) a free, quick, self-service "Secure Score" which begins to shine a light on potential security problems.