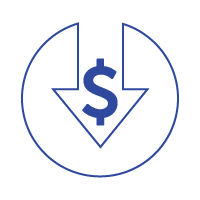 VIAcode's Cloud Cost Management service helps organizations to minimize cloud spending through cost center allocation, governance, the reduction of resource over- and under-utilization, and the development of resource allocation plans that ensure applications get the resources they need without overspending.
Microsoft Azure includes over 200 services that streamline development, infrastructure deployment, application hosting, and more. Azure is unparalleled in its flexibility, but also complex enough and resource provisioning is easy enough that it is challenging to track cloud spending and resource utilization. Without comprehensive monitoring, usage analytics, and cost management, it is common for businesses to spend more than they have to on Azure infrastructure.
VIAcode helps Azure users to minimize cloud
spending by:
Implementing monitoring and reporting to give businesses insight into how their cloud budget is being spent.
Designing and implementing cloud cost-management processes.
Ensuring cloud resources and budgets are allocated efficiently.
Identifying areas of over and under-utilization within Azure cloud infrastructure.
Enacting cost-effective cloud management strategies.
Aligning cloud spending with the resource requirements of applications to maximize cloud performance while minimizing cloud spending.
Implementing alerting and automation to identify possible developing cost issues and quickly resolving them,
VIAcode's team of developers and Azure professionals have saved businesses many thousands of dollars through effective cloud cost management.
Contact us today to take control of your Azure cloud costs.
Start my Azure Snapshot
Check out our Azure Snapshot tool which provides (among other things) a free, quick, self-service estimate of potential cost savings.