An Introduction to Application Usage Analytics and Services
Analytics has been used throughout our lives. It is difficult to imagine a large company or resource working without data collection and further analysis. Can a marketing department that doesn't have any analytical data work?
Even more difficult to understand the abundance of tools and the way how it's used, it is enough to mention the areas in which analysts work now:
Requirements Management
Research
Processes Engineering
Modeling&Design
Delivery
Consulting
Of course, it's difficult for small and medium-sized companies to afford such a big staff, but the need in data collection won't disappear. Moreover, cloud-based technologies have gone far, what allows us to make analysis more accessible and not so expensive. Regardless of the size of the business, modern solutions give undeniable advantages over competitors.
The Usage Analytics Services Marketplace
There is a big market of software solutions that use different approaches to Analytics and each of the largest cloud data players (such as Microsoft Azure, Amazon Web Services, Google Cloud and Adobe Experience Cloud) has a similar product. There are strong startups that are not bind to a particular platform, for example: Piwik, Woopra, MixPanel, FireSYutats, Clicky and others. They provide a fairly extensive set of functions to solve problems of any complexity, while many of them use a unique approach. VIAcode actively applies the most promising solutions on the market and the selection criteria are: effective tools, stable product support and, of course, the price/value correlation. At that moment, such solutions are selected: Google Analytics, Microsoft Azure Application Insights and MixPanel. All three tools can be used both: for free and by subscription.
Each of them has its own characteristics and in the aggregate they can provide exhaustive information for any, even the most refined query:
Google Analytics is the most common analytics system, it has rather broad tools and easy integration.
Microsoft Azure Application Insights is a powerful platform which can help you to track even the most unusual data, and the introduction at the level of the language makes it really omnipotent.
MixPanel – uses a fundamentally different approach, where the user, his identification and history of behavior are the starting point.
We have decided to choose highly appreciated by worldwide IT community VIAcode portal MPwiki (http://mpwiki.viacode.com) as a target application for comparative analysis. This site is open and provides certain information about many Microsoft products and not only. Attendance of the site per day can vary in the average values 300-500 visits, i.e. the sample are sufficient to work out certain scenarios
of user behavior. To use some of the features that the site provides, you need to complete registration. Based on this, we decided to use behavioral scenarios when the user requires registration, and we get a statistical funnel. As the resource also has certain financial benefits, an important task was to understand which pages the user visited in order to create an anonymous model of behavior and relying on it, change the order and conditions for the provision of content.
Every analytical tool has its strengths and weaknesses, we will consider them one by one:
MixPanel Usage Analytics

In Mixpanel are available three tariff plans: Free, Startup – $999 per year (or $99 per month) and Enterprise – the price of which is set individually. The principal differences in plans are increase in Data history, Predictive analytics and Report Export API.
Generally speaking, MixPanel – one of the brightest, independent representative of analytical systems, which can easily be introduced into the site, with a transparent arrangement of events. The key feature is what MixPanel relies on, as the base unit. If in Google Analytics and Microsoft Azure Application Insights it is a page, then in MixPanel it is the user and related events. Moreover, without writing events to the hand-held MixPanel does not reveal its potential.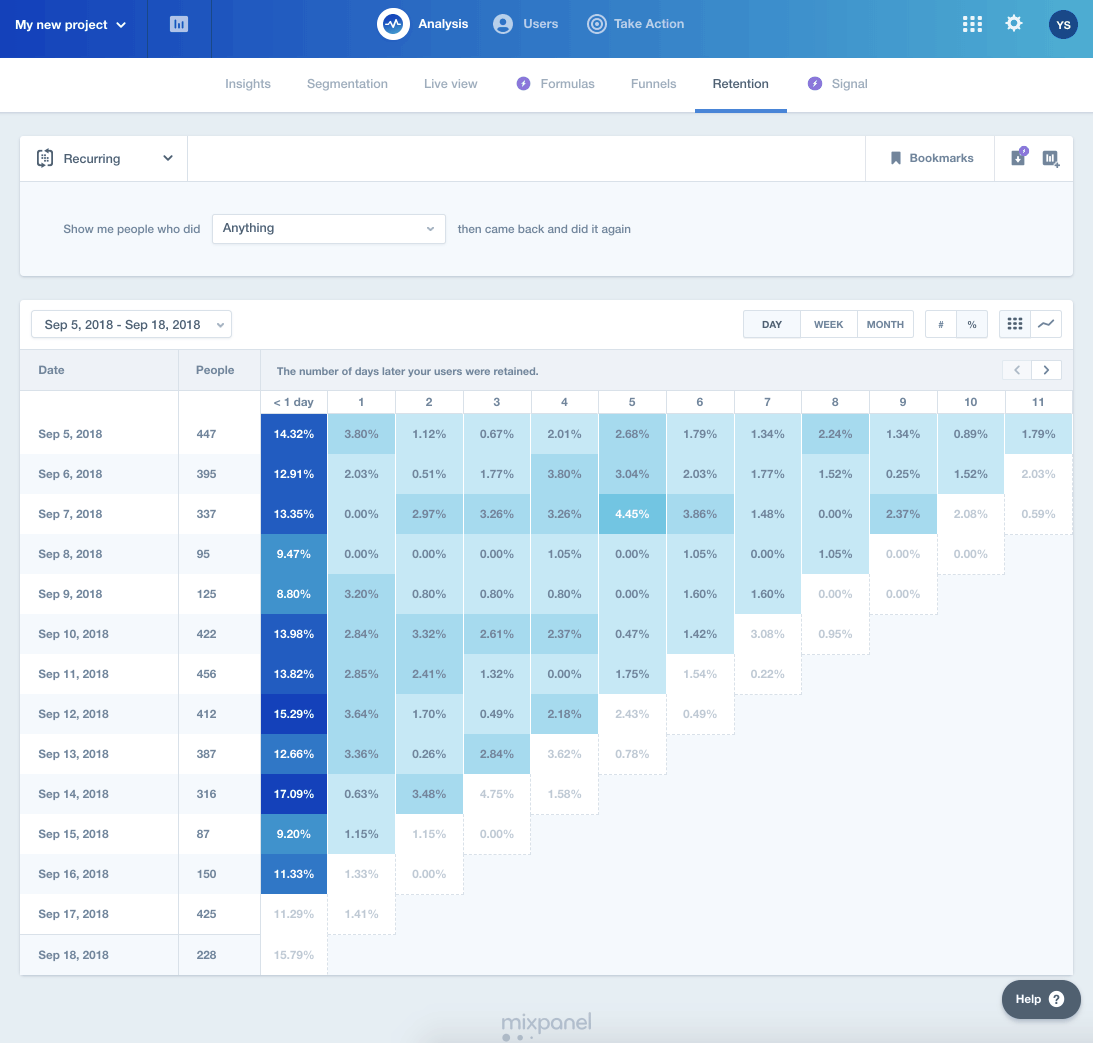 The installation starts from placing on the pages of the standard MixPanel script including a unique token, but the system starts to work fully when different events are created and placed on the key anchors. Events are written and added manually by the analyst or the developer into the code. Within the confines of MPWiki, we selected all the logic to track MixPanel events in a separate script. Using this tool we are not limited in the choice of the number of events and stages of user identification. The weak side is the task of tracking the time spent by the user on a particular page. It is possible to realize, but with additional efforts.
In our version of the solution, the events hang at each of the registration stages, so you can always compose and track the funnel, at which step the user stopped or went through all the steps. The events that the system receives are of custom names, each of which reflects the essence of the event and the appearance page. It is because of this that funnels can be built in any sequence of events.
In the free version, MixPanel allows you to store up to 5 megabytes data points per month and up to 60 days of history. In one side, it's not so much, but how practice shows us, in short term outlook is enough to have a general idea about visitors. The paid version will enable you to use the built-in analysis with the help of machine learning, which gives assumptions about the user's behavior in the future and other additional features. More info about the pricing can be found on official site or if you want to go deeper, VIAcode gives extended information.
Google Analytics Overview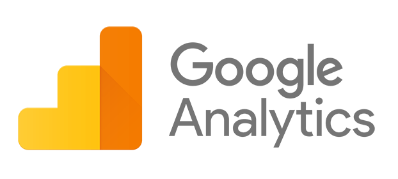 Better part of the features of this tool can be obtained in the free version, but there is also a paid subscription – Google Analytics 360 which starts from $150,000 per year. Such subscription is necessary for really large businesses and it gives unprimed support from Google, increasing all metrics in times and deeper integration with Google services.
Of course, this is the most popular tool that can be found on almost any resource. Installation is very simple at the initial stage, but, if the tasks become more complicated, you will dive deep into the instructions. Due to the fact that requests are different, Google Analytics is trying to satisfy the largest audience of users, which is why the toolkit can be incredibly extensible with the help of various plugins. This is also a weakness and sometimes it is rather difficult to understand exactly where to find the right tool or section, for this you have to look through a large amount of documentation and even the courses that Google provides.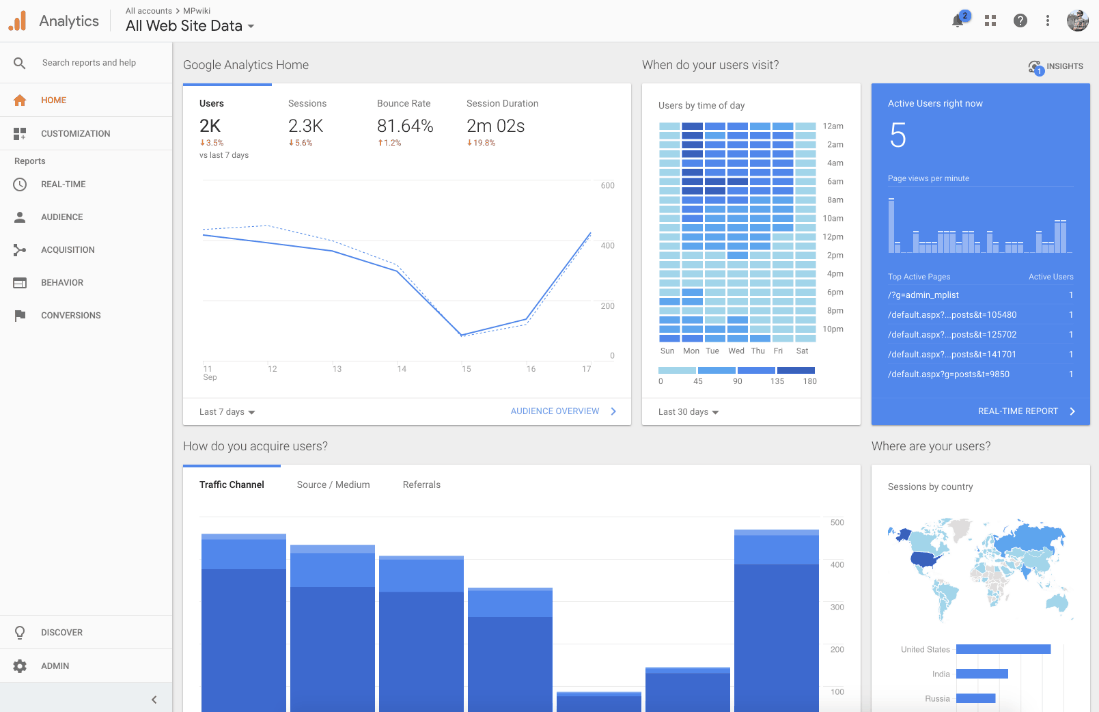 In our usage scenario, the initialization started and the script was connected, which contained the event installer. Unlike MixPanel, building funnels in Google Analytics is more sophisticated. There are at least three ways to implement this. As already mentioned, for Google Analytics, the basic unit is a page and it's the URL that's most suitable for building a log-in funnel. This method is less informative than MixPanel, but we can look at the statistics of the time spent on the page, a deeper breakdown by regions. To build a more custom funnel, you need to buy a paid version of Google Analytics 360. If your site is a Single Page Application then it can be a real headache, but even though Google is trying to help you with this, it can be still pretty tricky.
Primarily, Google focuses on a very large audience and makes it possible to use the maximum number of tools in the free version. The paid version is called Google Analytics 360 and includes large limits in metrics, deeper integration with Google services and the highest cost among competitors. VIAcode can provide a clue about Google Analytics capabilities and help improve your commercial analysis statistics.
Microsoft Azure Application Insights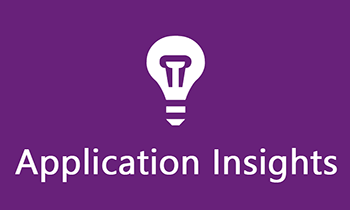 Pricing for Azure Application Insights is based on data volume per application. Each Application Insights resource is charged as a separate service and contributes to the bill for your Azure subscription. Application Insights has two pricing plans: Basic and Enterprise. The Basic pricing plan is the default plan. It includes all Enterprise plan features, at no additional cost. The Basic plan bills primarily on the volume of data that's ingested. The Enterprise plan has a per-node charge, and each node receives a daily data allowance. In the Enterprise pricing plan, you are charged for data ingested above the included allowance. If you use Operations Management Suite, you should choose the Enterprise plan.
This tool includes all the best that is in MixPanel and Google Analytics. It's equally convenient to work with events, building varying complexity of funnels and with pages. Application Insights is part of the Azure portal, which gives certain guarantees in terms of quality and reliability. Nevertheless, Application Insights has a weak point – it is separate user tracing with the events that he uses. Application Insights has it, but it is not the same as MixPanel, but, at the same time it is not better than in Google Analytics. Application Insights is the most versatile solution and simultaneously with limited functionality to extensions. Also, this service can be more deeply integrated than most competitors, not only using JavaScript but also platforms such as .NET, Node.js and J2EE. To do this, Microsoft provides comprehensive documentation.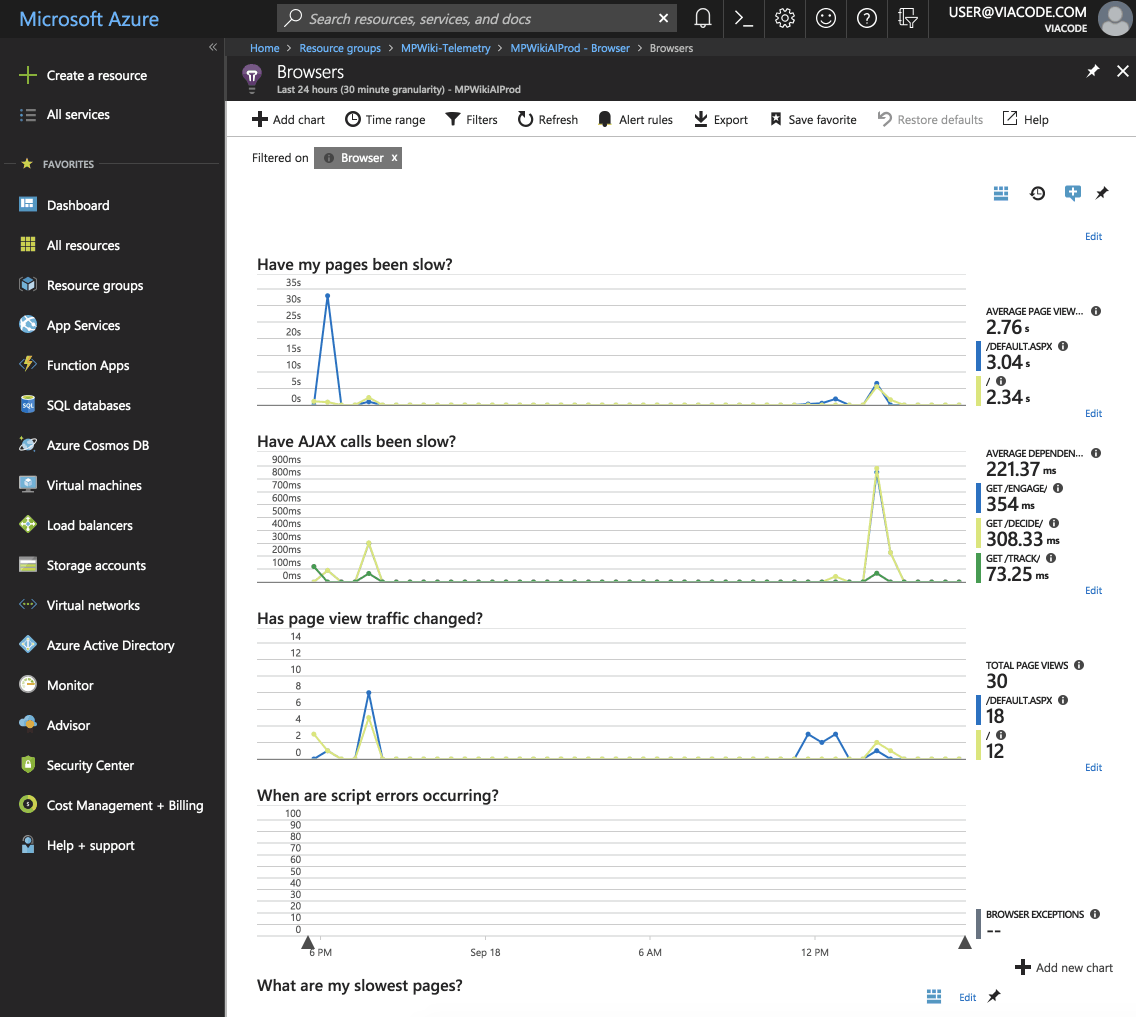 For basic integration, you will need to place the code at the stage of downloading the resource, similar to Google Analytics and MixPanel. In our scenario, a separate script was created, which is responsible for setting the events on the elements. The system is very similar to MixPanel, the difference is in implementation details and syntax. Moreover, the funnels that we build in Application Insights are also similar to MixPanel – events are lined up step-by-step. In truth, Application Insights allows you to visualize entire mind-maps that dynamically update and change, which was also used as a competitive representation of funnels.
Using Application Insights are paid based on the amount of telemetry data sent by the application and the number of performed web tests. In the free version, data storage takes place within 90 days. The given tariff plans are more flexible in comparison with competitors and can satisfy the majority of requests. We in VIAcode will be glad to warn you detail information and how it can give a lift addressing your business needs.
Which Application Analytics Platform is Right For You?
Each of the used tools is an outstanding product and everyone has its own approach. Google Analytics widely used due simplify of the first start, but if you spend some time to install MixPanel elements, you can expect much more data flow about your visitors. Application Insights becomes an intermediate option, supported and developed by Microsoft, which allows you to take the amount and specificity of data that you can process.
To get more complete picture, VIAcode actively uses all three tools. Together they give the synergy effect and become a real "Swiss knife", which solves the full range of tasks. It is worth mentioning that for in-depth study of all these possibilities, you need to spend a lot of time and money. Quite often, it is much more profitable to resort to the services of those who have expertise in this. The result will give an impetus to the rising of your company, even in those areas of activity that could be inconspicuous at first glance. Using analytical tools wisely, you will always be one step ahead of your competitors.