Azure Security
Assessment
UNDERSTAND AND IMPROVE
YOURSECURITY POSTURE
Ransomware attacks are up over 40%.
Companies like Microsoft and Okta have recently reported data breaches. The US government has warned businesses to be vigilant against an expected increase in cyber attacks.
Do you know where
your system is vulnerable?
Please send memore infoon the Azure Security Assessment
We value your privacy. You can learn about our data collection and safeguarding practices in our Privacy Policy. You can unsubscribe to any communications at any time.
Expose security risks and harden your system with the Azure Security Assessment.
The Azure Security Assessment provides a thorough review of your Azure infrastructure to determine your Azure health and identify areas for improvement. You'll get:
Prioritized, actionable and specific recommendations for improving the security of your Azure environment
Detailed analysis of vulnerabilities to infrastructure, SQL Server, Office 365, and more
A report that identifies infrastructure affected by recommended improvements
Discover ways to dramatically reduce your organization's security risk and build strategies for maintaining an optimized and secure Azure environment. Complete the form to learn more.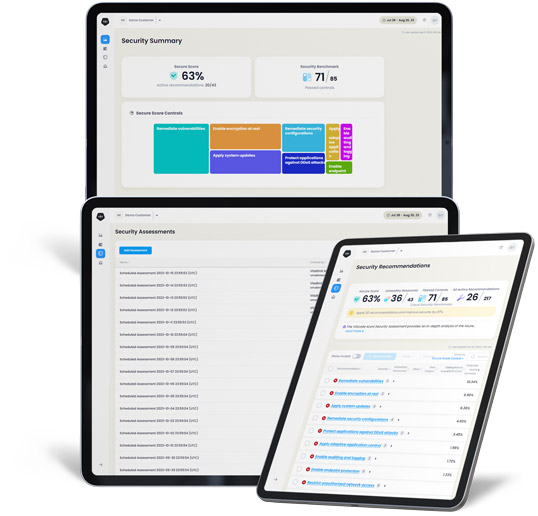 Download a sample report
See a real example of an in-depth analysis of one organization's Azure infrastructure security posture. VIAcode's client reviewed the actionable recommendations in the report and worked with VIAcode to plan and implement necessary improvements to their environment.
The result: the organization dramatically improved their security posture and their ability to reduce risks and maintain a continually optimized, secure Azure environment.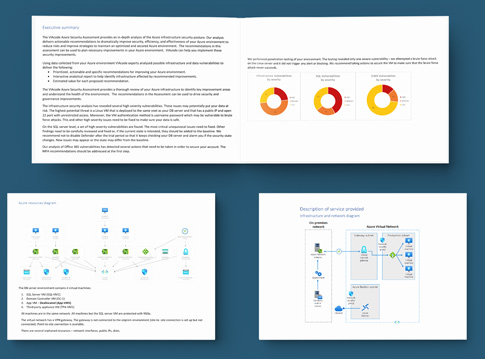 Why VIAcode?
No Microsoft partner is more experienced.
VIAcode has over 20 years of experience delivering Microsoft-branded solutions for management, operations and migration. We are a Microsoft Managed Partner and have earned four Microsoft solution designations.
We are the Azure experts.
VIAcode is one of only a few partners with Advanced Specialization in Azure Migration. In addition, our CEO, Victor Mushkatin, was Group Program Manager on the Microsoft Azure Product Team from 2010-2018 where he envisioned and led development of Microsoft's Azure Application Insights.
Microsoft trusts us and relies on us.
VIAcode has an ongoing development partnership with the Microsoft Azure and SQL product teams.
Our development efforts include:
Microsoft's Azure demo platform used by Microsoft cloud solution architects (CSAs) worldwide
Microsoft's Universal Voice of the Customer product feedback platform
VIAcode has earned the following Microsoft Solution Designations: